NEW!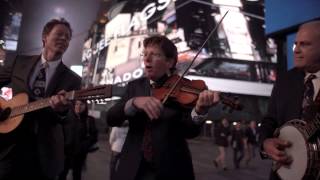 Hot Rize plays the streets of New York
Hot Rize has released a new music video, produced by Mason Jar Music, that finds them masquerading as street musicians in the Big Apple.
---
Pete featured in Bluegrass Today!
British journalist Richard Thompson interviewed Pete "over coffee", covering a wide variety of subjects. See what Pete names as his "favourite" bluegrass album, composition, and more.
---
Pete's Memories of Earl
Author David Russell recently approached Pete concerning a book he's writing on the influence of Earl Scruggs.
---
Pete's Tab Archive Now Online!
For the first time ever, over 240 solos by Pete on Hot Rize and Country Cooking albums -- since 1971 -- are now online for download. Includes the new Hot Rize album!
Click
for details.
---

Free Video Lesson!
Clary Mae
Pete will be sharing some of his most-requested solos free, right here on DrBanjo.com. The song can be found on the new Hot Rize album "When I'm Free." Get the tab
here
.
Click for previous video lessons
---
1980 video of Pete pickin and discussin'...
TV interview in Louisville with banjo picker Terry Heaton. How long did it take Pete to type out his banjo book?
---
Jam Class video!
Watch a Wernick Method class, and hear what the students and teacher say! Thanks Fred Boettger, for a fun 4-minute report.
---
---
---
Chord photos!
All jammers need to know how to "read" guitar chords.
Click here
for clear photos of the most common ones.
NEWS
Hot Rize nominated for Entertainer, Album of the Year
Hot Rize nears the end of its year of touring behind
When I'm Free
with 10 festivals in September and October, and an appearance at the IBMA Awards Show in Raleigh October 1, as nominees for Entertainer of the Year and Album of the Year.
When I'm Free
has won unanimous raves and been on the National Bluegrass Radio Chart for close to a year. See
hotrize.com
for the latest news, schedule, and to
order the new album
-- on CD or vinyl!